"In Light of a Future We Have Yet to Make": Social Justice Summit, 30 September 2021
---
Mobilities Justice
Mimi Sheller, WPI Dean of the Global School, speaks about how environments and building layouts need to become more sustainable and just for all mobility needs. In her speech, she shares concerns on urban pollution, the global refugee crisis, and climate crisis. Sheller provides points from her work Mobility Justice: The Politics of Movement in an Age of Extremes and Island Futures: Caribbean Survival in the Anthropocene. Following her speech, faculty and graduate students held a roundtable discussion on these topics.
For more information on Bean Sheller's work and the summit, please click here.
To view a recording of the speech and roundtable, please click here.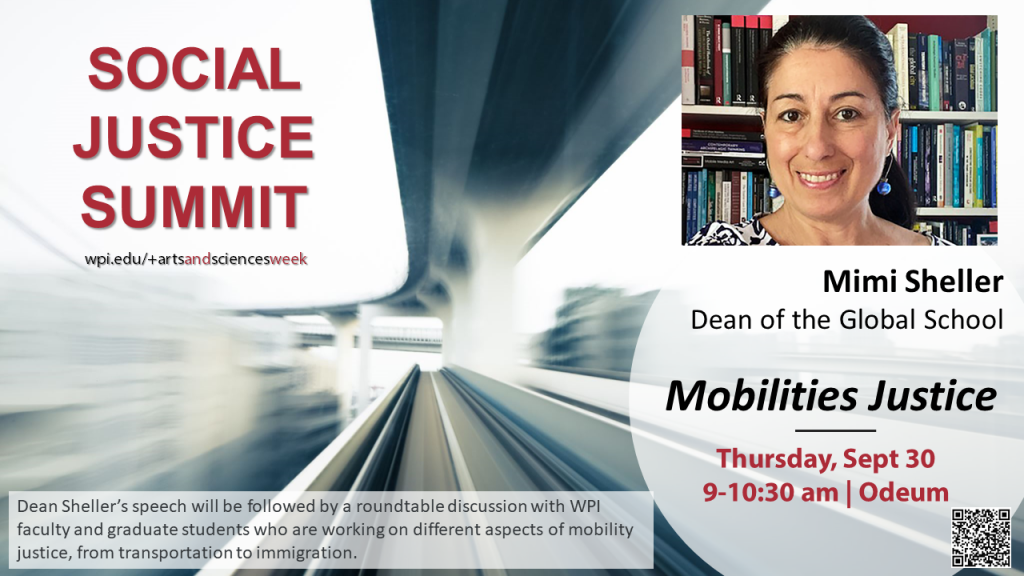 ---
Shining Light on Student Access and Inclusion: Practices for Inclusive Pedagogy
In this workshop, students led a panel to share the impacts that open pedagogical practices have effected their experiences. This ranged from inclusive curriculums to open resources. Following the student panel, participants learned how these practices can be designed for classroom experiences. They also discussed why they should be designing their experiences with these practices to better understand why they help experiences as well as how they can implement them. This was an in person workshop only, and there is no recording of the discussion.
For a more in depth explanation of the panel and discussion, please click here.